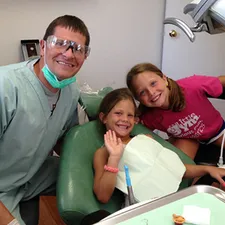 Dr. Schlutz is a Pittsburgh native and moved to the DC Metro area in 2000. He received his undergraduate degree at the University of Pittsburgh and completed his dental education at Pittsburgh as well in 1997. He began working for Dr. Flick in 1998, and then took over his prestigious practice in 2001. Dr. Schlutz has maintained the same quality of care Dr. Flick has always prided himself in giving. It was a seamless transition.




Philosophy
Throughout the past decade, Dr. Schlutz has worked to preserve old school traditional dental care in an ever-changing dental world. While his office reflects the utmost evolving technology, his focus on family-oriented and friendly care has not wavered or diminished. His ability to make his patients feel comfortable and like a part of his family is remarkable, and will continue to reflect his philosophy in dentistry for years to come.

Current Work
Dr. Schlutz specializes in cosmetic dentistry, specifically, restoring crowns and implants. His work is exact and meticulous, making his patients feel like they can smile again with pride and confidence. He delivers all general dentistry services including teeth whitening.

Family Man
While Dr. Schlutz is not restoring implants, crowns and the like, he is most likely coaching his kids' softball and baseball teams with his wife, Kelly, of 10 years. Brenya, Keira, and Aidan are involved in a plethora of activities, all of which Dr. Schlutz is an integral part. He is a family man to the fullest extent both in and out of the dental office.